Other Brands
Are you in love with the latest Chanel Chevron Button CC Bag from the Pre-Fall 2018 Collection. Last time we featured the Clutch version, which was also announced on Chanel's official website. But what hasn't been shared is the Shoulder Bag version. Did you wish there was a style that could sling on your shoulder? Well, here is it!
The Design
The Clutch version looks very much like the Shoulder Bag version. Both are crafted with chevron stitching and the newest signature CC Buttons are constructed on the edge of the flap. On every CC button, there is a CC logo embellished.
The Chevron Button CC Shoulder Bag is designed in either lambskin or suede leather. Suede is harder to maintain but it's super soft. Lambskin is a bit fragile, still durable but super smooth.
The Clutch was crafted with wrist strap, but the Shoulder Bag comes with the signature woven chain leather strap. The leather on the chain strap is the same leather as the bag. So, if you choose suede leather, then the chain strap is also partly made from suede. If you pick lambskin, then the chain strap comes in lambskin.
And there is of course, more good news. The bag is also available in multiple classic shades like blue or black suede, but also black lambskin.
The Interior
We don't have the exact image of the interior, but we do belief it's somewhat the same as the seasonal Flap Bags. So there are two main compartments, with a zip pocket and flat pocket. The Shoulder Bag comes in medium-sized, so it can be used as a daily bag.
We think the Chevron CC Button Flap Bag is an unique yet timeless handbag. Unique because it's never-seen-before. Timeless because the Chevron Quilting as well as the classy-looking buttons.
The Sizes And Prices
We do not have the exact measurements and the prices. When we do have the information, we will provide more details here. In the mean time, please ask the SA for more info.
But if you got more info, please share them with the community in the comments box below.
More Images And Colors
Other Brands
We haven't talked much about the Fendi Baguette Bag for quite awhile. But the Baguette Bag is one of Fendi's iconic and it's time-tested because it has existed in the high fashion world for quite some time.
We remember the original style of the Baguette that's designed with thin leather. We also remember the original version with a leather strap long enough for shoulder carry. But now for this new season, there is a newer version that features a thick leather strap, so isn't that exciting?
The Design
How do you recognize a Baguette Bag? Well, thanks to the 'Faceted FF logo' on the front flap of course. The logo is connected to the front buckle strap.
The rectangle shape is also part of the Baguette Bag design. It's beautiful, feminine but also urban chic because of these two components. First the edge of the flap is decorated with a tone-on-tone weave. It also feels like a braided bag, don't you think? And secondly it comes with thick leather strap that can be detached.
So this new bag can be transformed from a shoulder bag to an evening beauty whenever you need to.
Also, it's made from calfskin leather.
The Interior
Inside this bag, there are two compartments; there is one main compartment and a zipped pocket. The bag is large enough for all your daily stuff. Here's the exact measurements:
The Sizes And Prices
Measuring 26 x 14 x 4 (L x H x D) cm, $2020 USD, €1500 euro, £1450 GBP.
Where To Shop Fendi Weave Baguette Bag?
1. Farfetch – Shop via the boutiques around the world here…
More Images And Colors
Other Brands
Balenciaga is no longer the designer brand it used to be, it has got the attention of the fashion media after introducing series of new handbags including one claiming to be an Ikea copy bag. However, there are also plenty of styles with the house's logo embellished, which is also something new for Balenciaga. And so, take a look at the Balenciaga Everyday Chain Wallet for the Spring Summer 2018 Collection.
The Design
The Chain Wallet is comparable to the Wallet On Chain Bags. The solid colors of this Chain Wallet are designed with streamlined and clean body. The center is crafted with the house's logo.
The bag looks surprisingly simple, but for a reason – it has a flaunting purpose. Balenciaga wants people around us to focus on the center logo, so that they know it's a high fashion piece. The combination of black and white (black background and white logo, or white back ground and black logo) will help make the signature stand-out.
This Everyday Chain Wallet Bag is made in calfskin. It comes with a palladium chain strap that's long enough for shoulder or cross body carry. There is also a hidden back pocket.
The Interior
The interior is made with a main compartment including card slots. It's an mini day bag or an evening companion, so there is enough space for your basic needs.
The Sizes And Prices
Measuring 22.5 x 14 x 6.5 (W x H x D) cm, priced at $10700 HKD, $1290 USD, €950 EUR, £855 GBP.
Where To Shop Balenciaga Everyday Chain Wallet Bag?
1. MyTheresa – for solid colors and other colors
More Images And Colors
Other Brands
It's big and beautiful; the Chanel Chevron Statement Tote Bag is the new addiction, but it will also make our life harder. Because now we need to decide between this Chevron Bag or the Large timeless CC Bag. Which one would you rather have?
CHANEL CHEVRON STATEMENT BAG OVERVIEW
Chanel Chevron Statement Flap Bag

Chanel Chevron Statement Tote Bag

Chanel Chevron Statement WOC

Chanel Chevron Statement Square WOC

Chanel Chevron Statement Pouches
The Chevron Statement Bag is bolder of course and more attention-grabbing due to the large V patterns. The overall design looks as classic as the iconic bags, which makes it worth the investment.
This tote bag is introduced for the Pre-Fall 2018 Collection. But this Chevron Statement style was first introduced in the Fall Winter 2018 Collection Act 1, which started with the flap bag. The flap bag became rapidly famous in very short period of time and maybe it will join the ranks of the upcoming classics.
The Design
Everything that the 'classic totes' has, the Chevron Statement Tote Bag has them too. And maybe even more because it comes with two strong leather handles for hand carry. It's a fine shopping bag for casual days or for work with plenty of interior spaces.
The bag is built with large Chevron V patterns on the front and back. The sides are quilted with diagonal lines. The calfskin leather is another big plus because it means that the bag is strong, long-lasting and with minimum attention needed for maintenance. The center is crafted with the signature smooth CC logo in gold hardware while it includes the long woven chain leather straps for shoulder carry.
And because the Statement Chevron Flap Bag is already so famous, this Tote Bag version will certainly leverage on its fame.
The Interior
The Chevron Statement Tote Bag features a leather-strap button closure. There is one big main compartment inside including a zip pocket and two patch pockets.
The Prices And Sizes
Style code A91643, measuring 10.6' x 5.1' x 12.2' inches, priced at $4900 USD, $6200 CAD, €4260 EURO, £3830 GBP, $7260 SGD, $39000 HKD, $7090 AUD, ¥598320 JPY, ¥34900 CNY, ₩5940000 WON.
More Images And Colors
Other Brands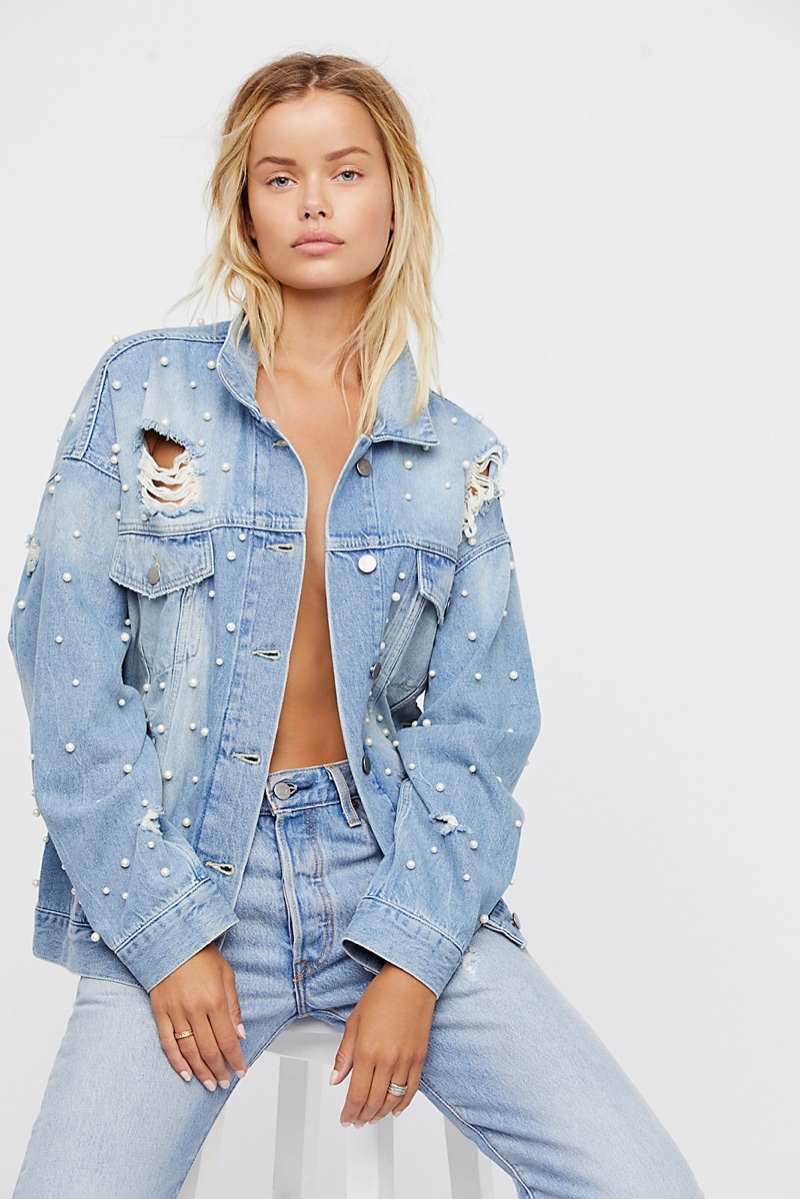 Denim never goes out of style, but every season you can always find new trends to follow. This summer, distressed denim is taking over and there are plenty of ways to wear this style. From baggy pants to bejeweled jean jackets and deconstructed designs, bring your denim game to the next level. Jeans like these can be worn so many ways with designs from ranging from luxury houses to mall brands. See four ways to wear distressed jeans this summer below.
EMBELLISHED DISTRESSED DENIM
The first trend we're looking at is embellished distressed denim. This season, designers add pearl accents to jeans and jackets for a glam update to the classic staple. But your denim does not just need to be decorated with jewelry. Floral embroidery or silver studs can also improve your look. We recommend pairing an embellished denim piece with a more minimal design. You never want your look to be too busy.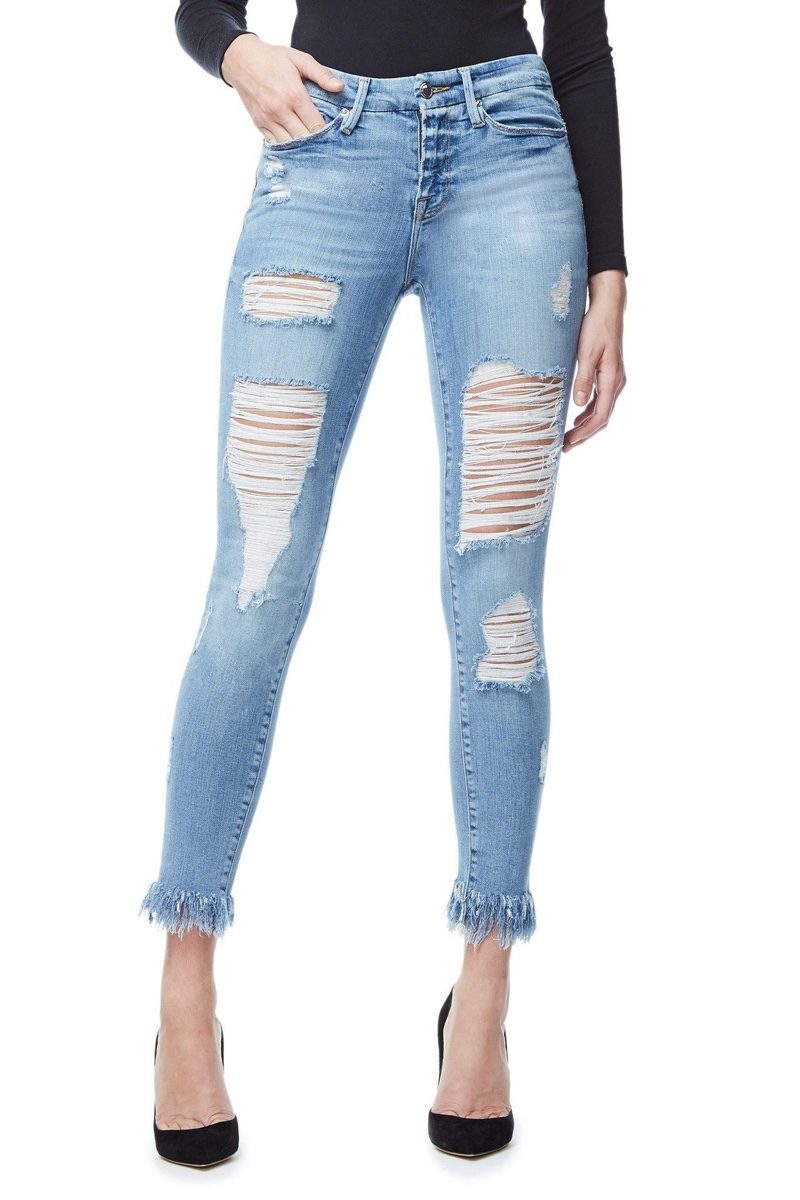 DECONSTRUCTED DENIM
Distressed denim is not only about ripping and holes, there's also deconstructed styles. The DIY details range from patchwork accents to fraying and asymmetrical silhouettes. From Japanese inspired jackets such as this one from Alexander McQueen to more casual pieces, deconstructed denim can really add a unique spin to any outfit. Make sure to keep true to your personal style by looking for a flattering fit.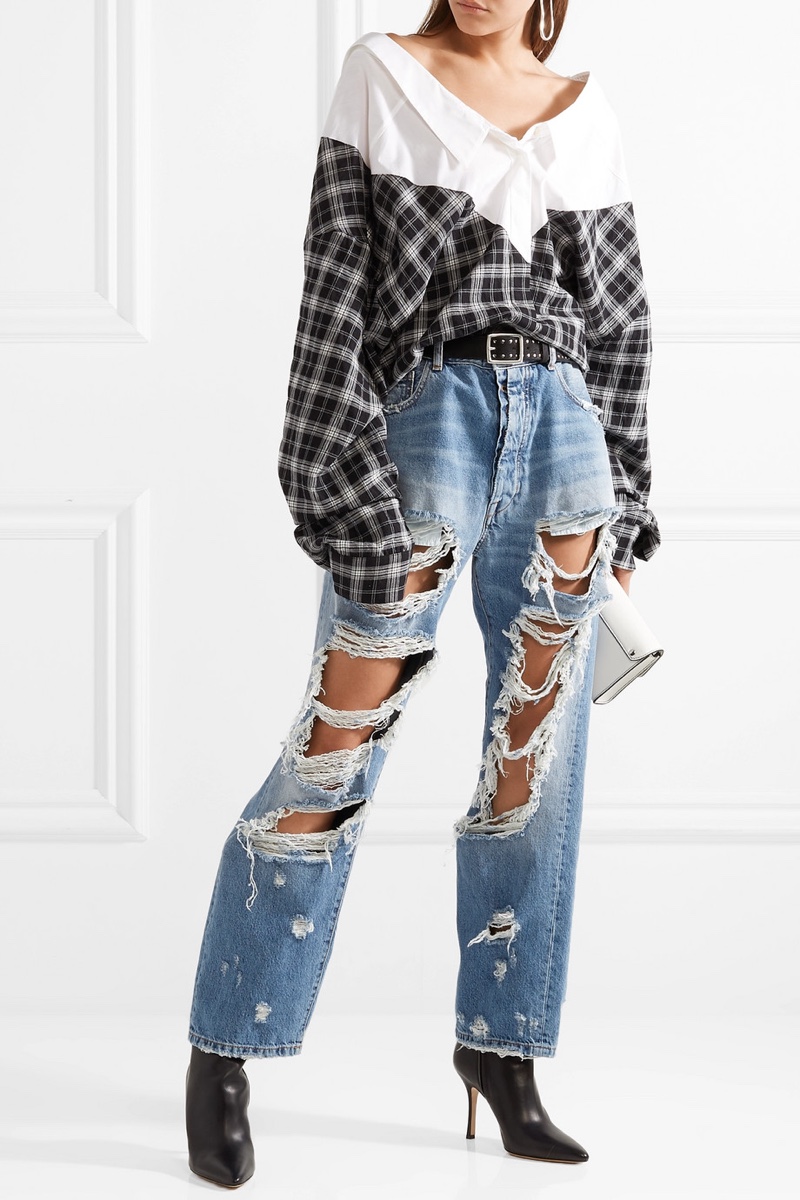 BAGGY DISTRESSED DENIM
The 1990's have returned in a major way, and when it comes the denim, baggy jeans could not be any more retro. A distressed style paired with an oversized silhouette will definitely make you stand out from the crowd. We recommend wearing a baggy jean style with a fitted top. When both your top and pants are baggy, it can make you look wider. When it comes to having the perfect outfit, it's all about having the right proportions.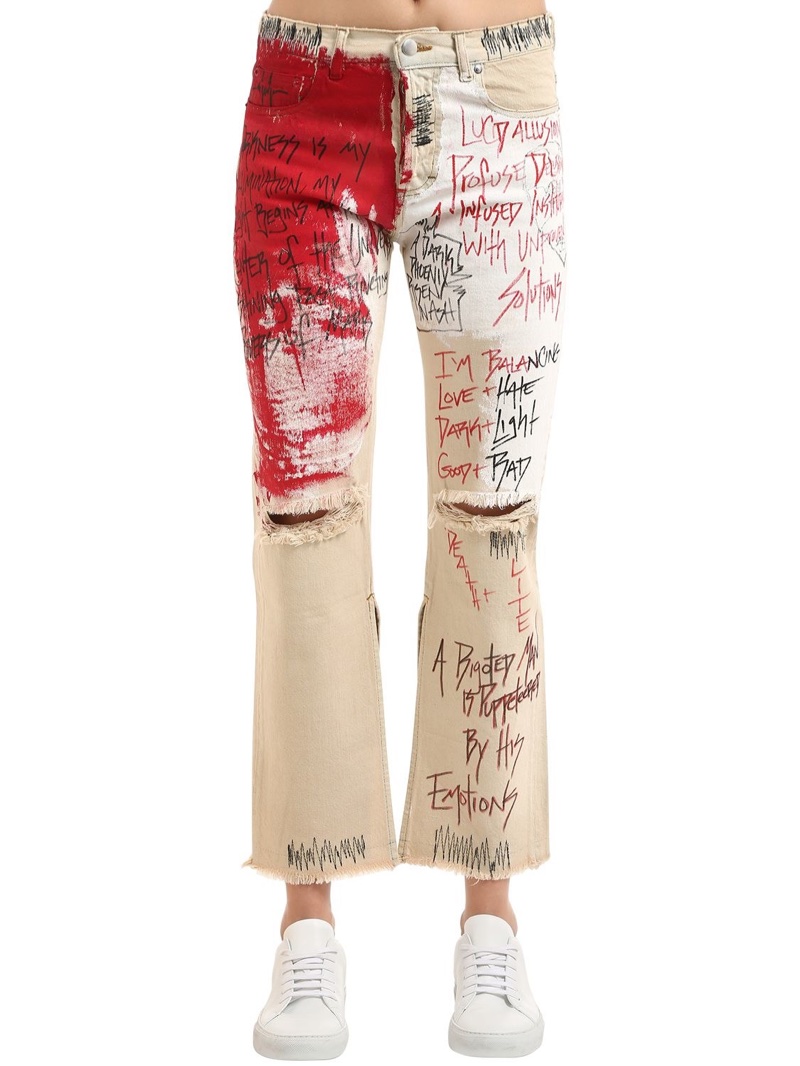 PAINT SPLATTERED DENIM
Last but not least, we take a look at paint splatter denim when it comes to distressed styles. You may have seen this look on the runway, and now you can have it in your closet. Whether decorated with pants, jackets or skirts, it's an easy way to add some color to your look. Paint splattered denim is also a great way to show off your artistic side. If you can't find a style you like in stores or online, take an old denim piece and "paint" it yourself.
So there you have it–four great ways to wear distressed denim this summer. Which trend are you excited to try?
Other Brands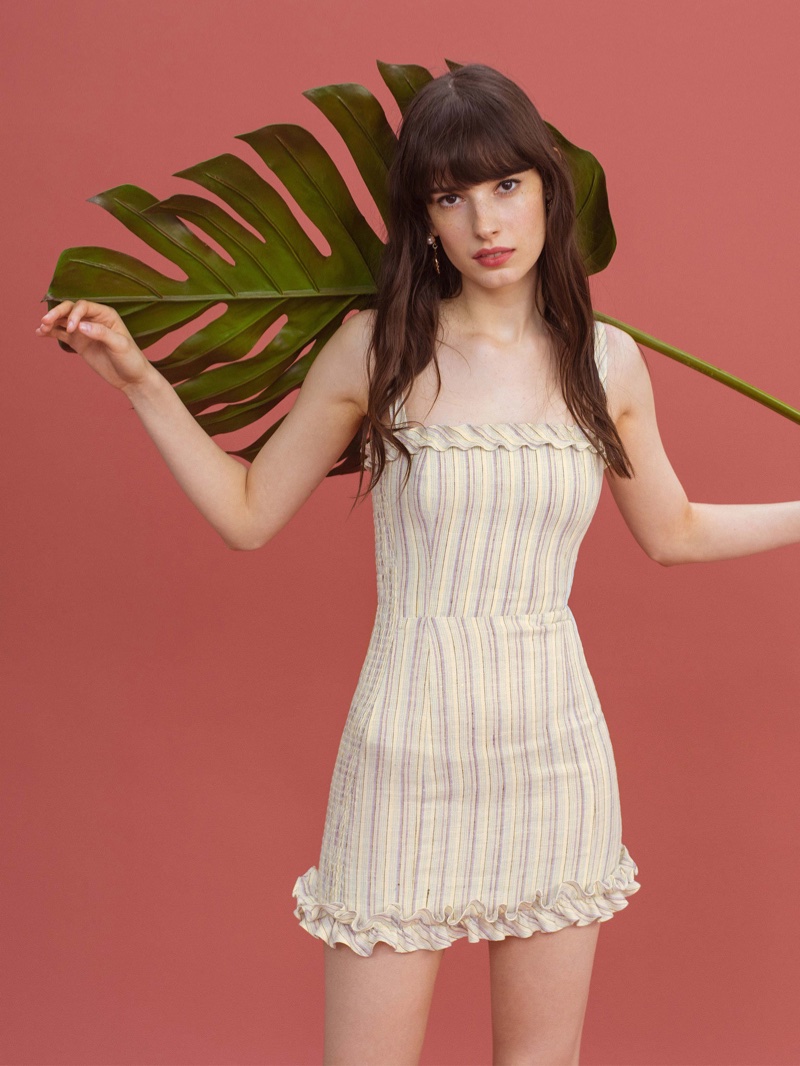 Reformation's new arrivals are perfect for summer. Made for those rising temperatures, the American fashion brand offers form-fitting minidresses, elegant wrap dresses and fitted rompers. From floral prints to gingham patterns and stripes, these pieces will look great no matter the event. The designs feature feminine accents including ruffles, ties and ruching. See our picks from the new collection below, and shop more summer style at TheReformation.com.
Related: Reformation's Chic Dresses Arrive at Nordstrom!
REFORMATION SUMMER 2018 DRESSES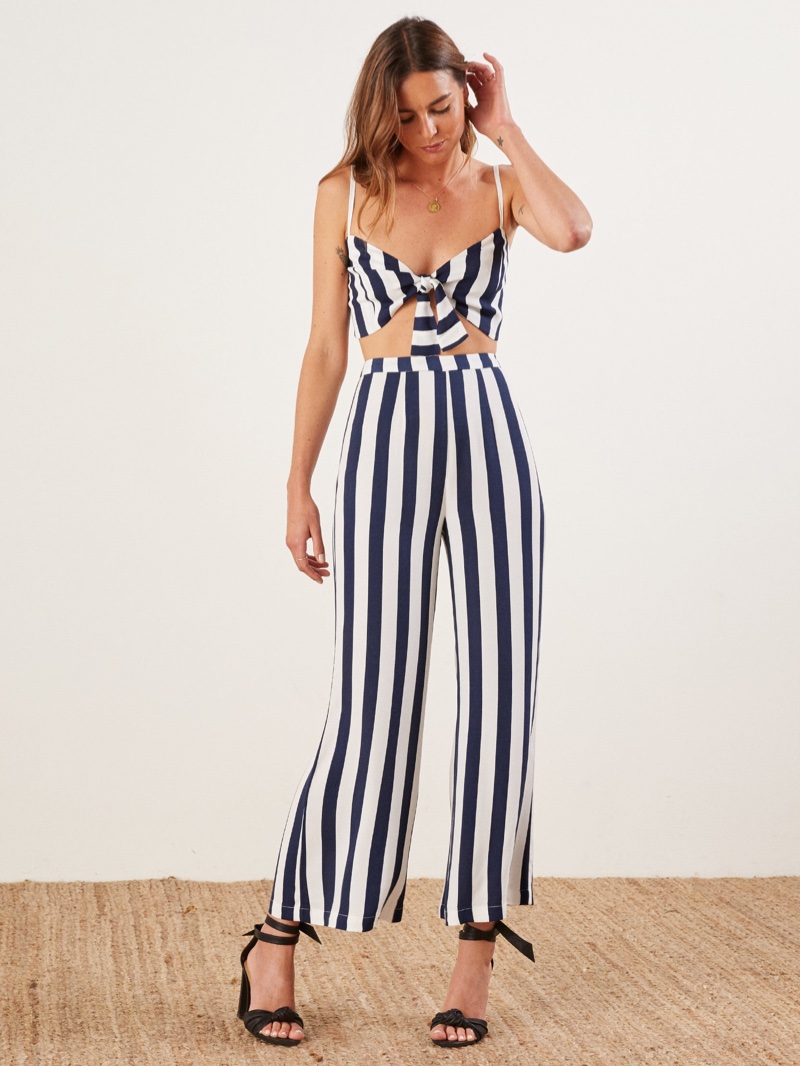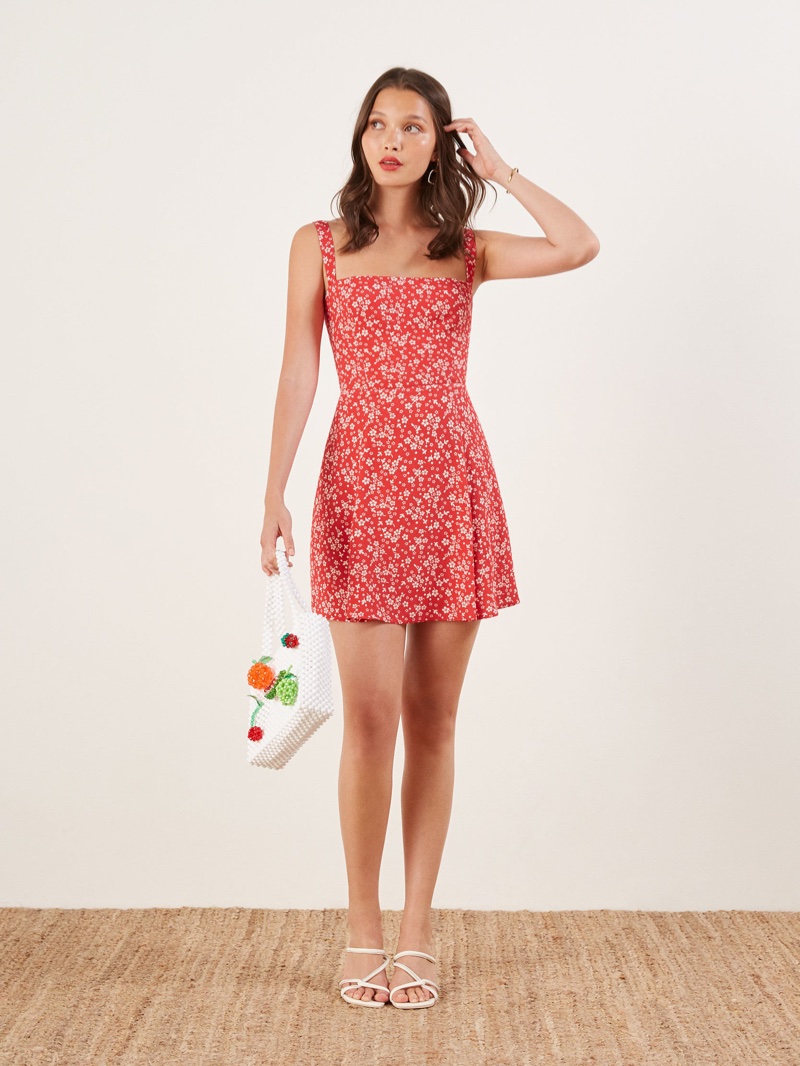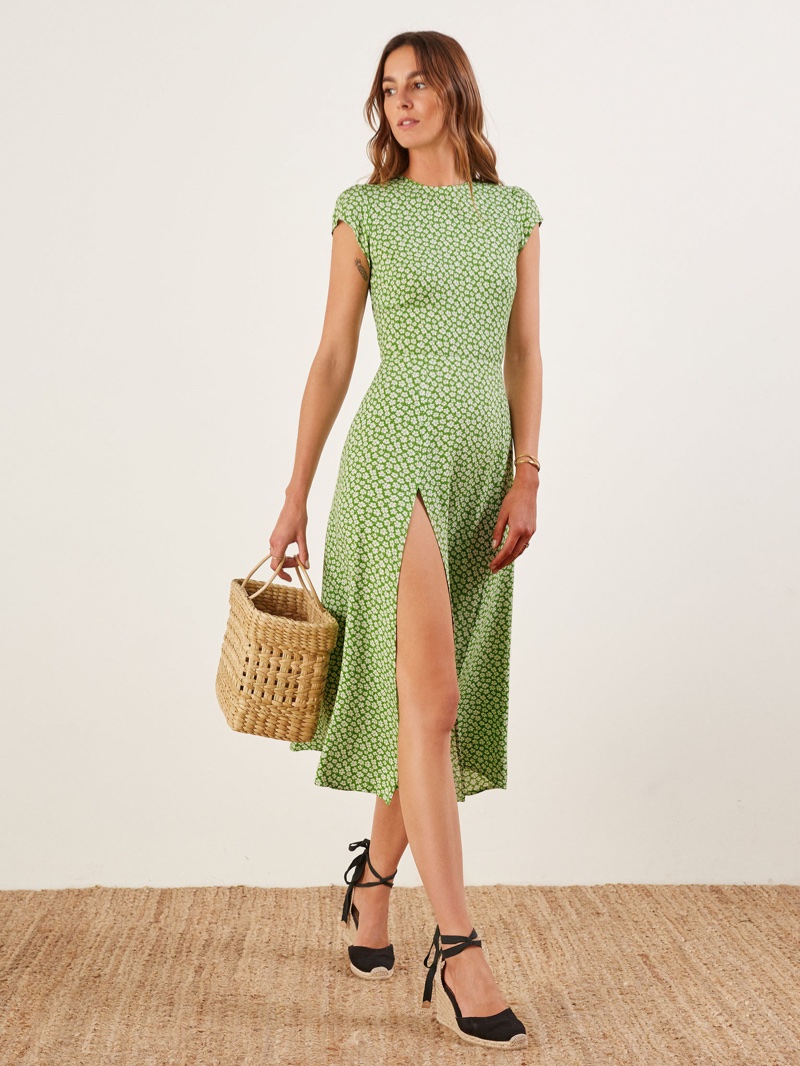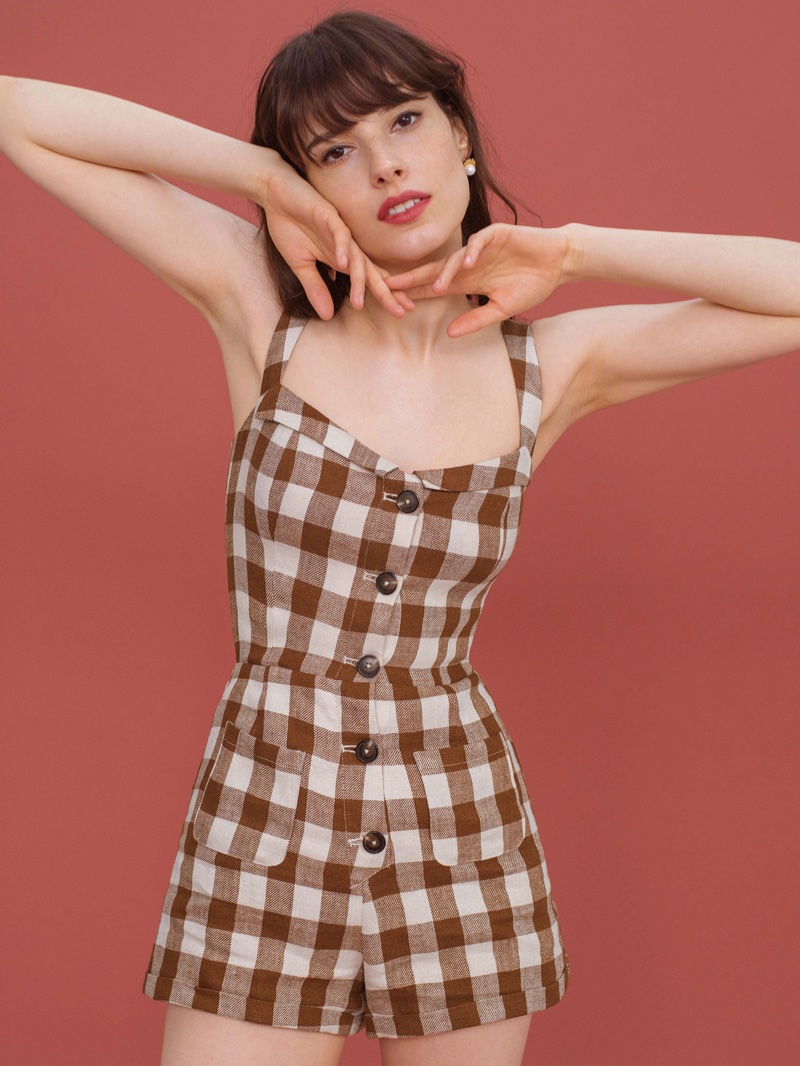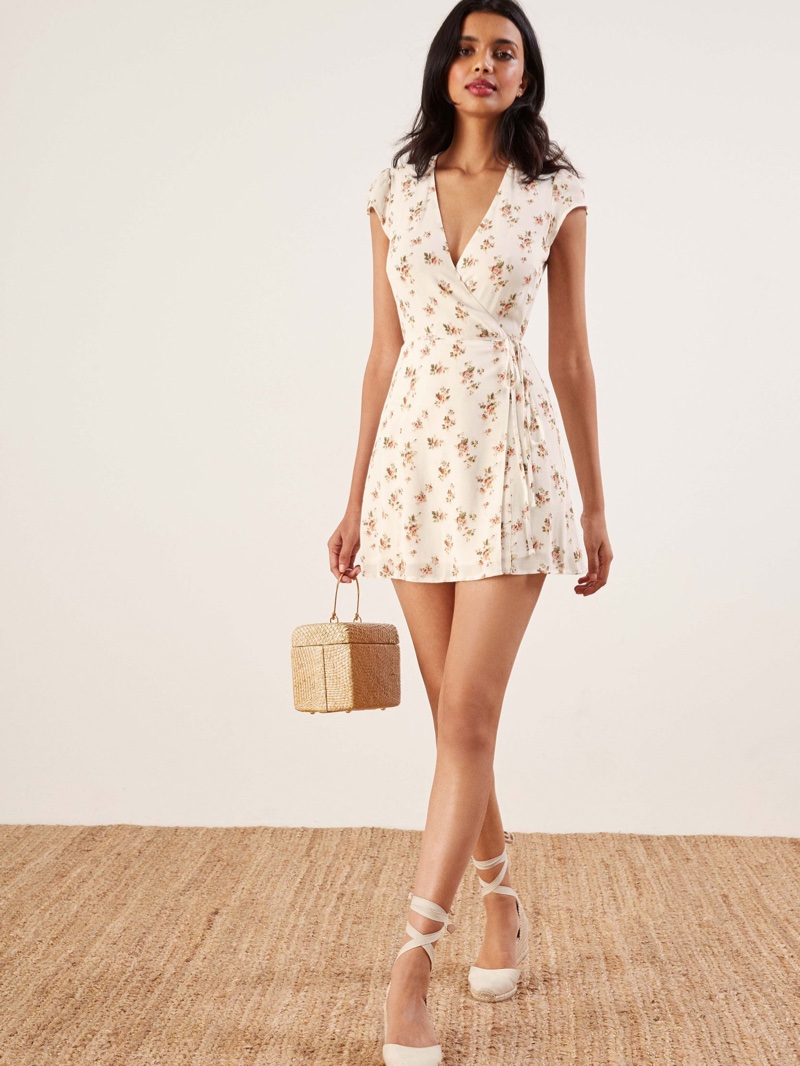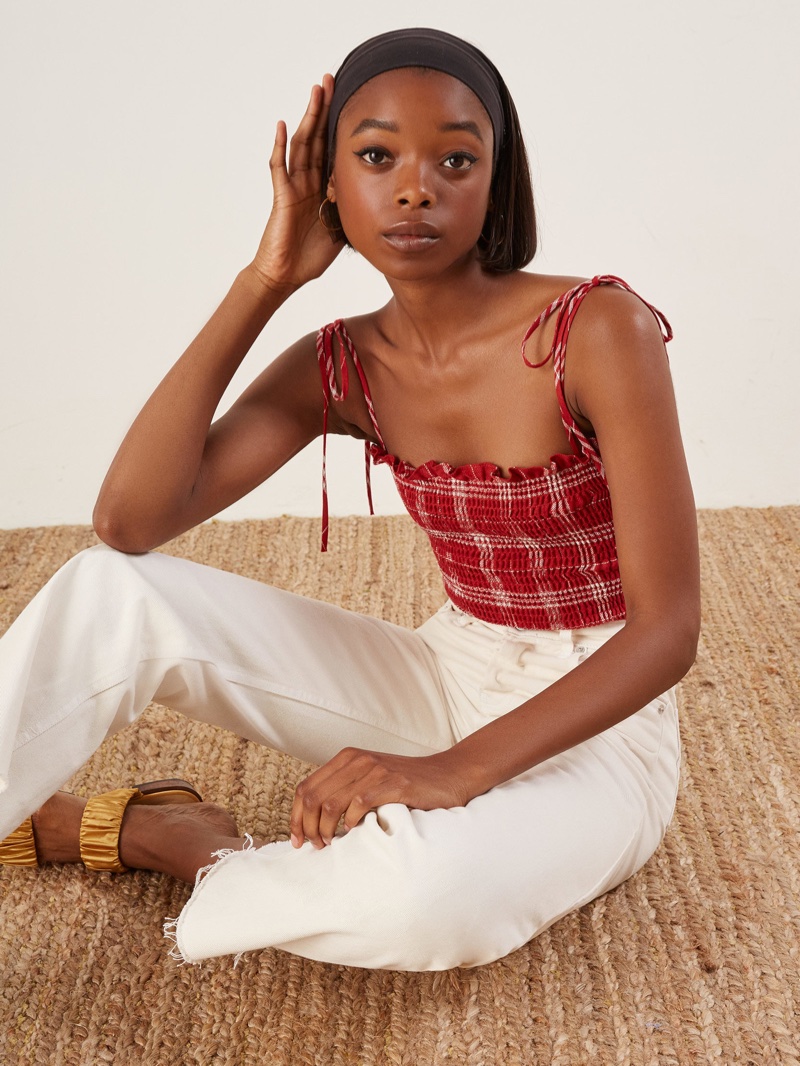 Designer Bags, Wallet, Purse, Belt & Accessories Official Site, Best Price & Quality, Free Worldwide Shipping, Free Returns. Every Bag Is A Work Of Art - Handmade - Cowhide Art - Can Custom-Made

Categories

New Posts

Hot Posts