Fashion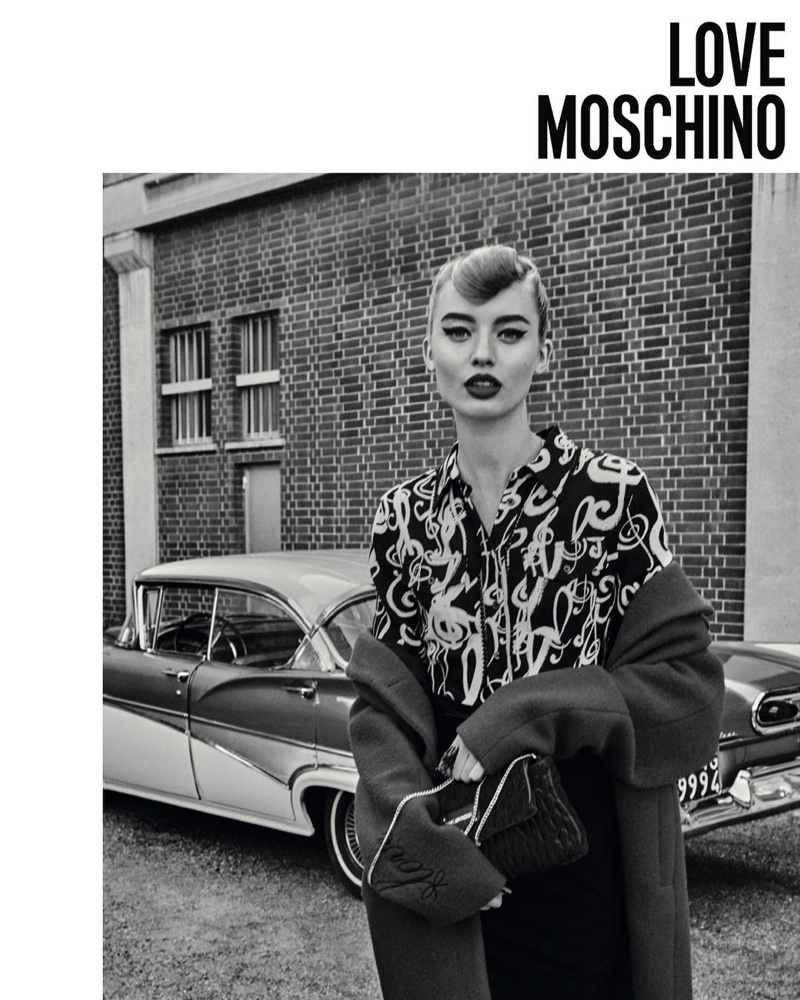 Love Moschino showcases rockabilly style for its fall-winter 2017 campaign
Love Moschino delivers retro vibes with the release of its fall-winter 2017 campaign. Photographer Giampaolo Sgura captures the black and white images starring models Giulia Maenza and Kristian Einla. The pair channel rockabilly style in the laid-back advertisements. Giulia embraces animal prints, stripes and oversized outerwear in the vintage-inspired images. For beauty, hairstylist Andrew Guida creates 1950's coifs with Jessica Nedza on makeup.
LOVE MOSCHINO FALL/WINTER 2017 CAMPAIGN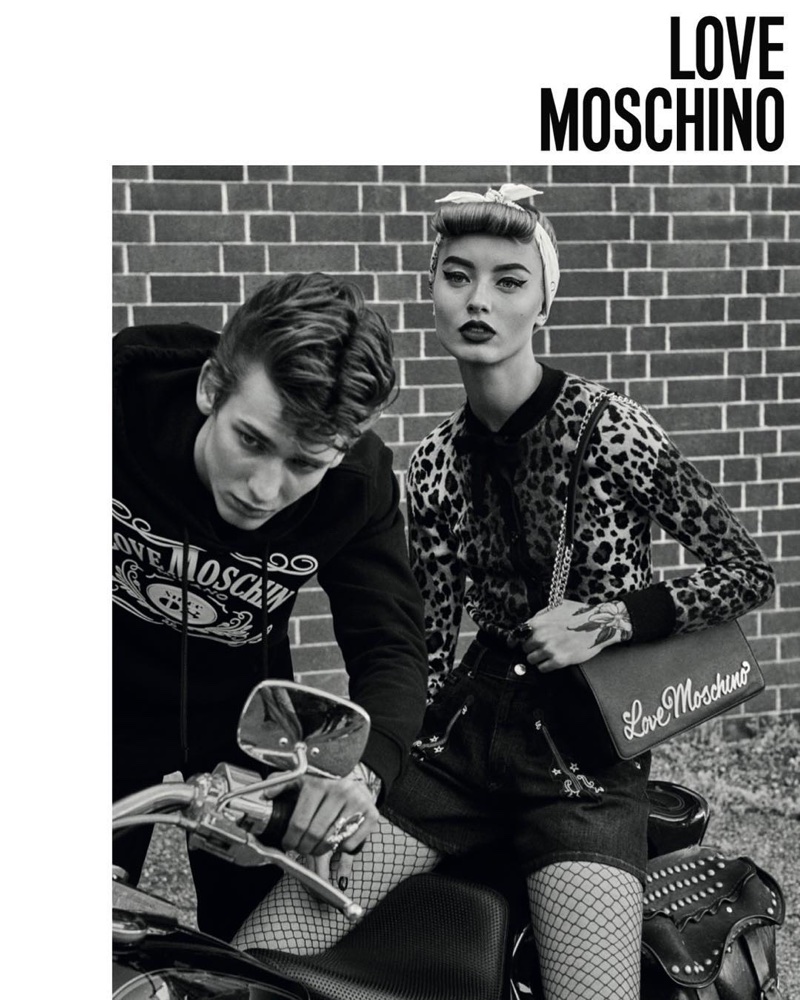 Giulia Maenza and Kristian Einla star in Love Moschino's fall-winter 2017 campaign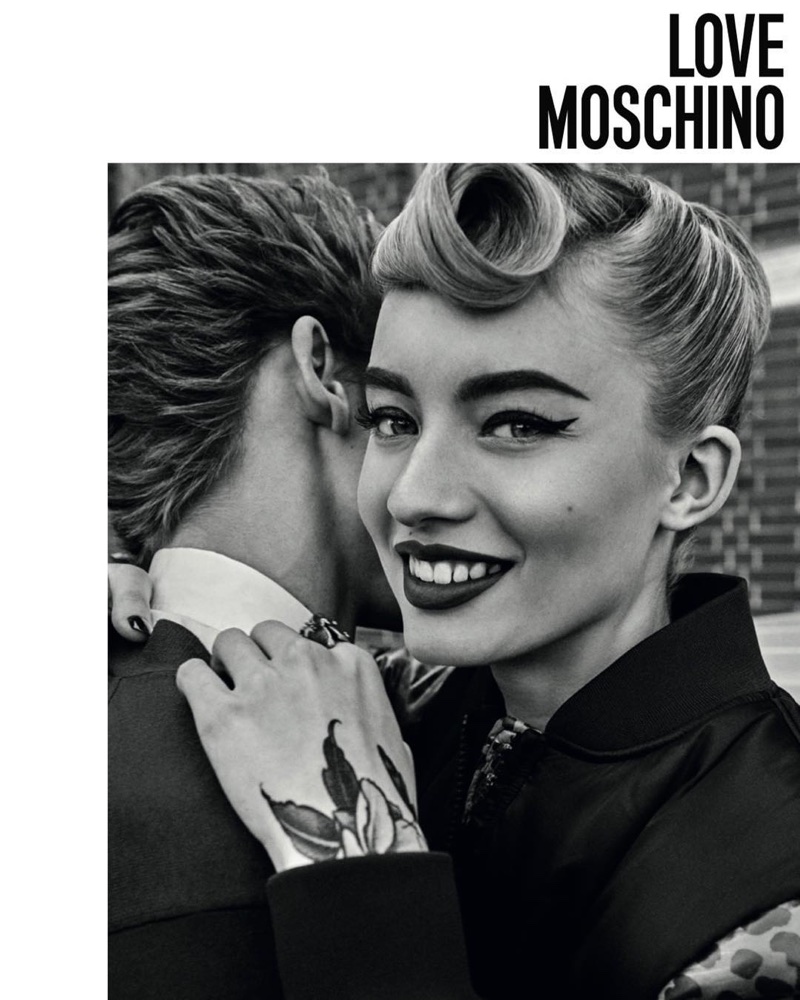 Giulia Maenza wears victory rolls in Love Moschino's fall-winter 2017 campaign
Fashion
The zipper is a great accent to have on clothing and footwear. Not only is it utilitarian, but it also serves as a chic styling choice. The only thing you have to watch out for though is snagging a zipper on loose material or even your skin. And most of the time, the zipper is harmless, combining both aesthetics and functionality in its design.
If you are wearing a zipper, is it discreet, or does it make a statement? The zipper has had its place in the limelight in fashion weeks past, and now again we see it everywhere from London to New York and Paris. Its versatility is key in its usage. It's not just the zipper either that can take the main stage, look at the tiny zipper pulls that shape the fashion trends.
These zipper options were gleaned from Paris, London and Milan Fashion Weeks 17-18; In three categories, we find them: discreetly, boldly, and elsewhere.
Go Discreet:
Seen on the runways of the 17/18 shows, the delicate zippers were barely noticeable: molding form into firm shape; placed along silk; snugly hooked into the collar. Elegantly placed. Invisible. Paris Haute Couture Fashion Week Fall/Winter 17-18 has a variety of example, with Giorgio Armani Prive's catwalk collections standing out the most.
Go Bold:
Prominent too in the 17/18 shows were bold zips; black contrasts, metallic sheens. London Fashion Week displayed designs in the menswear shows where the zipper took on aesthetic roles instead of just functional. Notice how Mochiko Koshino imbued edge into aesthetic functionality by displaying zippered slits on oversized jackets. Liam Hodges' zippered legs show the potential for a bold, but casual look.
Paris Fashion Week Menswear SS18 had the zipper on display in some bold and adventurous moves. Take Alexander Macqueen that presented the zipper as though it were on a walk through history, pulling from its motorcycle roots. Facetasm also drew from trends past by adding zippers to double denim, with the zippers as seams, it seems. Don't miss Icosae's black zipper contrasts on white. It is once again a season for the zipper, but this time anywhere.
Go Elsewhere:
Jackets and bags are the norm. Try incorporating a zipper into the pants, the boots, or as statements across your tops. For instance, edgy zippers at Milan Men's Fashion Week SS18 were seen on cuffs. Motorcycle skirts are seen with multiple zippers, some crossing the entire skirt diagonally. For evening wear, go bold or go discreet, or even top-to-bottom zipper dresses. Don't forget the zipper scarf, worn for a casual look, or even a smarter look. What about a zip necklace? For the very brave among us, or the exhibitionists, there is also Vetements, who caused a stir with their 360 zipper fly!
A zipper is not just a tool for speedy closure. It's potential for statement, whichever way you choose to go, whether boldly or discreetly, aesthetically, functionally or both.
Take inspiration from fashion week if you will, or go truly rogue by investing in a sewing machine, some sewing lessons, and start adding them in yourself.
Fashion
Isabel Scholten stars in Glamour Italy's July issue
Gracing the pages of Glamour Italy's July 2017 issue, model Isabel Scholten looks like the queen of the desert. Photographer Xavi Gordo (8 Artist Management) captures the blonde in stripped down neutral looks for the sun-drenched shots. Stylist Valentina Di Pinto dresses Isabel in a mix of knit sweaters, fringed tops and bikini bottoms. The Dutch model shines in the designs of Ermanno Scervino, H&M Swimwear, Philosophy Di Lorenzo Serafini and more.
EDITORIAL: ISABEL SCHOLTEN BY XAVI GORDO IN 'SAUVAGE'
Photographed by Xavi Gordo, the model poses in desert looks for the fashion editorial
Fashion
White lace outfit became a trend in the world of fashion is very sweet for as a display. Lace is an option for women who want to appear more feminine but still elegant. Lace is a trend that is not eaten. The uniqueness of the motive shows the making of lace is not easy so that each result is always appreciated. In wearing a white lace outfit in color selection and use of excessive accessories when using a patterned lace clothing is also not recommended, as it can give the impression that weight. To make lace as a preferred style of dress is not excessive and not boring, the principle is the balance. Enough with the use of a simple accessory only, or if would like to provide accents lace, could use a shoe, a belt or bag patterned lace. Here is a collection of white lace outfit for you.
Fashion
Max Mara officially closed another successful season of Resort collections. After two months of beautiful, wondrous designs and many muses and inspirations, the Resort season is behind us. Max Mara's Resort 2018 Collection is a real treat to the eyes.
For Ian Griffiths, the creative director of the Italian brand, this was another very successful collection. His main muse was Eileen Gray. Eileen is an Ireland-born architect and furniture designer that did her work in the 1920s. She is famous for her unconventional lifestyle. Her unique designs are very respected in the world of architecture. She was a real revolutionary, who really enjoyed men's tailoring. Ian is known for his love towards architecture, so the inspiration came naturally.
Just for the records, Griffiths studied architecture, and now is a professor of fashion design. For The Resort 2018 Collection, he thought of Eileen Gray vacationing in her villa at the Côte d'Azur Riviera back in the 1920s. A picture that perfectly fitted with Max Mara's signature style and designs.

The collection has a very Parisian and nautical vibe. The pieces somehow remind of the 1930s but in a very sophisticated and at the same time cool way. All of the designs look extremely comfortable and easy to wear. They come in calm colors such as white, cream, soft pink and deep blue. It is obvious that Ian wanted to transform the Max Mara girl into an elegant Parisian stylish woman. And he very much succeeded.
You can see many basic pieces that a modern woman can't live without. Fabrics such as dark denim in several shades, striped fabrics, and plaid, throw a playful note on the monochromatic designs. The pieces are perfectly tailored and comfortable for everyday wear.
In spite of the fact that the collection is inspired by a vacation location, and all of us picture summer, Ian's designs are for multiple seasons. For the summer he will have you ready with beautiful maxi dresses, long blazers and chic shorts and pants. He even thought of the most important detail that screams France- the famous beret.
As for the colder days, and chilly summer nights, the designer created jackets, coats, and basic shirts.
The Resort 2018 Max Mara collection is perfect for modern business women. The collection offers a good selection of suits, some of them monochromatic, others with stripes and polka dots. Their latest designs are a proof that simplicity and elegance never go out of style.
Fashion
Metallic jewelry tattoos become alternative options for those who want to appear different and unique without having to feel the pain in the skin while creating a permanent tattoo. Even temporary tattoos this usage it has often been used as a fashion statement. By the presence of metallic colors such as gold and silver on a temporary tattoo, metallic jewelry tattoos body art can be used as a substitute for the use of jewelry and accessories. Metallic colors give the display a flashy so worthy of being used as an accessory that is easily affixed to any part of the body in the skin. Metallic jewelry tattoos have a unique design is colored gold and metallic silver. Some of these tattoo designs are inspired from the jewelry, so these tattoos can be worn on the hand, neck and fingers as jewelry knockoffs. That makes it more interesting is because we can combine a variety of tattoo motifs in accordance with your wishes and our creativity.
Designer Bags, Wallet, Purse, Belt & Accessories Official Site, Best Price & Quality, Free Worldwide Shipping, Free Returns. Every Bag Is A Work Of Art - Handmade - Cowhide Art - Can Custom-Made

Categories

New Posts

Hot Posts